---
Photos from 2016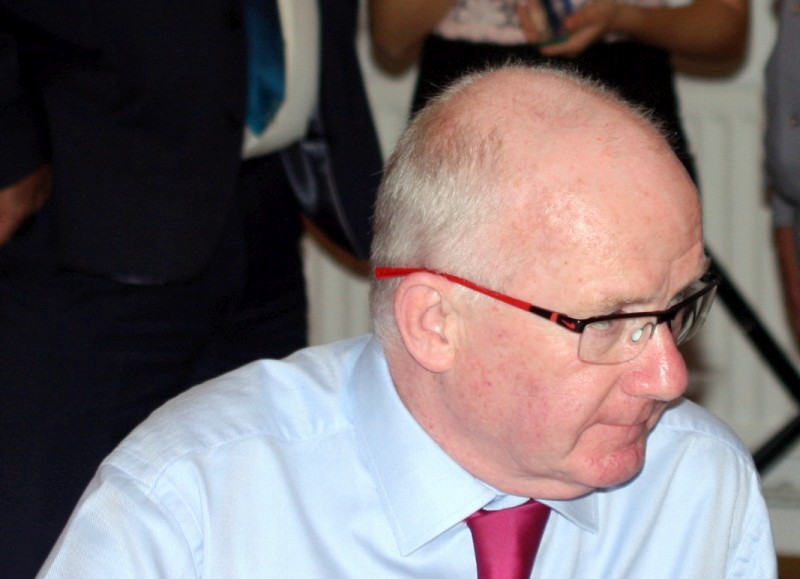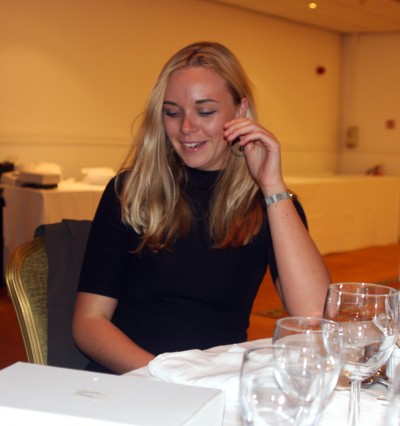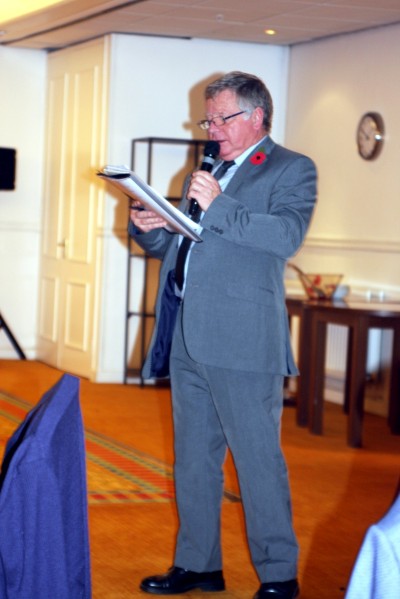 ---
The 2015 Presidents Awards Winners Were:
Senior Female Athlete of the Year: Dina Asher-Smith (Blackheath & Bromley)
A regular at international meetings representing her country, and currently the world 100m junior champion.
Senior Male Athlete of the Year: Tom Bosworth (Tonbridge AC)
A regular walker on the international circuit representing his county and represented GB in the Worlds championships this year.
Junior Male Athlete of the Year: Chris Olley (Tonbridge AC)
During this year he has represented GB in the World Junior championships.
Junior Female Athlete of the Year: Bobby Clay (Invicta East Kent)
A middle distance runner showing great performance both in county & schools championships and now starting to represent her country.
Coach of the Year: Peter Mullervy (Invicta East Kent)
A middle distance coach, currently coaching Bobby Clay, who has also served the County on the Team Selection committee and is currently serving on an England Athletics committee.
Official of the Year: Phil Pape (Cambridge Harriers)
Although this award acknowledges Phil's rapid progress through the ranks as a Starters Assistant and in particularly in attending a very large number of meetings each year, he is also involved in County Cross County, and County Team Management.
Volunteer of the Year: Tina Tappenden (Ashford AC)
Tina is very active in both her club & at County level with particular involvement with the KYAL & in mentoring support for our young officials
Young Volunteer of the Year: Kian Crawford (Ashford AC)
Other counties think of young officials as under 40, Kent is pleased that it has so many under 20 good officials so being selected by KSAA to officiate at the ESAA championships is a real achievement.
Kent Officials Secretary Award of the Year: Chloe Williams (Thanet AC)
Chloe is one of our young officials on her way up & has been representing Thanet & Kent as an young official at several national events during the year.
Presidents 25th Anniversary Award for long service: Mick Paul (Cambridge Harriers)
Mick was involved in the leadership of KCAA when it was form 25 years ago. He is current Treasurer, been a Team Selector & Team Manager as well as "officiating" at both cross country & track & field and clearly one of the most known people in Kent athletics. In particular Louise was delighted to be able to award him as he had proposed that Louise should be President several years ago.
Could you be a nominator of the 2016 award winner; do not delay email a nomination to president@kcaa.org.uk or secretary@kcaa.org.uk
Photos from 2015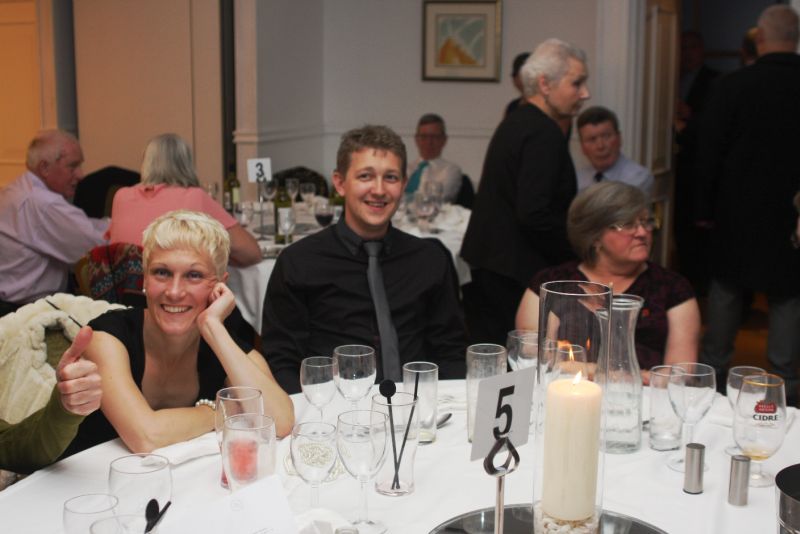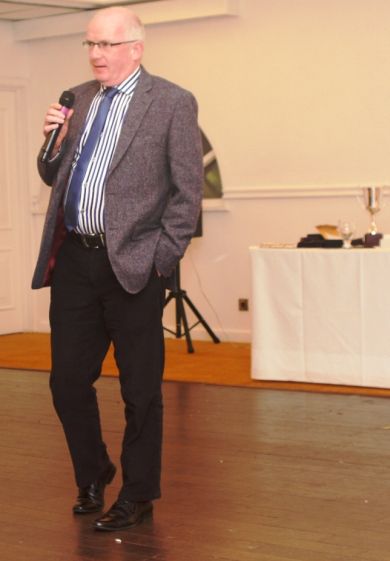 ---
Photos from 2014

---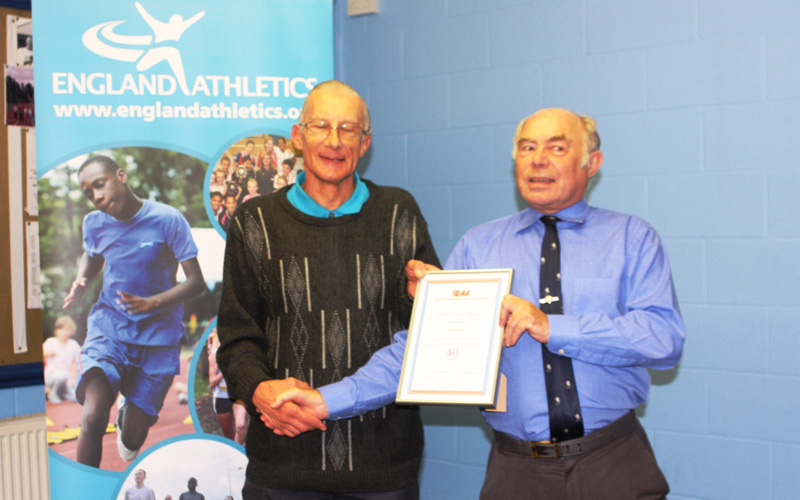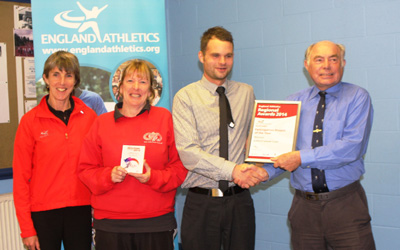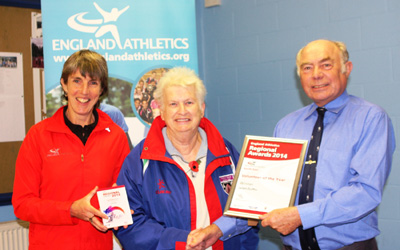 KCAA had the chance to congratulate 3 of its members at this year's AGM with presentations by its chairman / EA South East Regional Council member David Ralph of 3 awards. First there were 2 EA SE Regional awards:
Jan Duffin (Paddock wood AC & Secretary of the KCAA Sportshall Committee secretary) who received an award recognising her lifelong contribution to athletics as a volunteer.
Ashford Leisure Trust (ALT) (management group of the Julie Rose stadium) who provide a multitude of athletic services to us & others in Kent who won the Partnership Award for the second year running. Peter Le Rossignol (Development Manager, Ashford AC member & Coach) accepted the award on behalf of ALT.
Secondly Mick Paul (KCAA Treasurer, KCAA Female Team Selector & Cambridge Harriers member) who received the SEAA 40 years services to athletics certificate – which will take some beating. This follows on from him being award the Civic Recognition of Voluntary Service by Adults in 2014 by Bexley Council in April by the Mayor, which both truly recognise his lifelong contribution to athletics. 18-11-14
---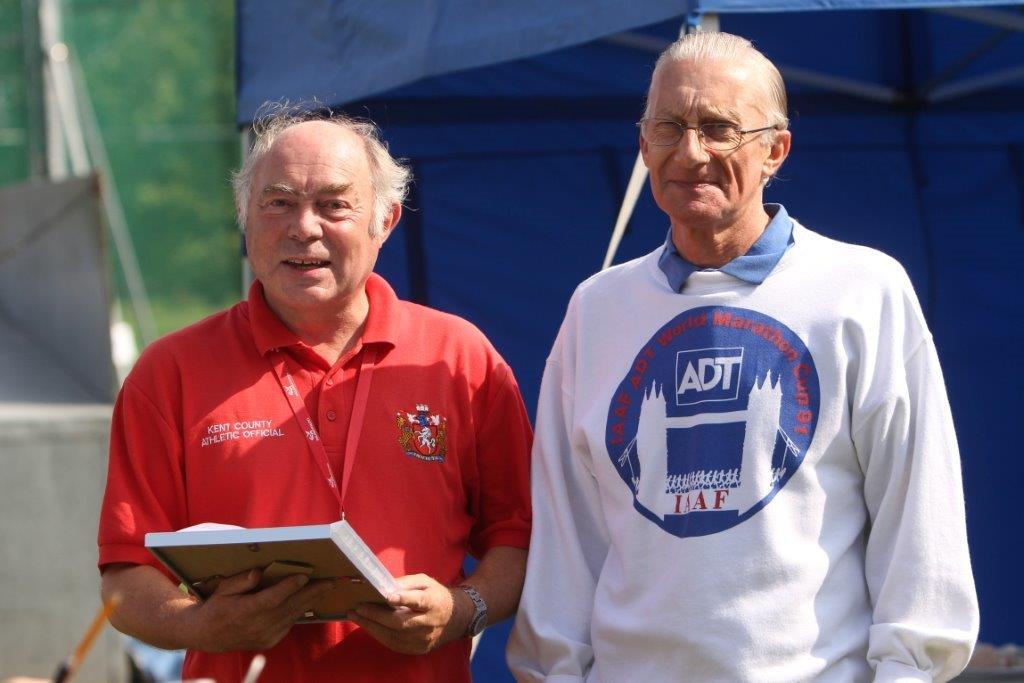 Our Chairman receives his 20 year Award for Services to Athletics and the SEAA in particular from the Hon. Treasurer 21-09-14
---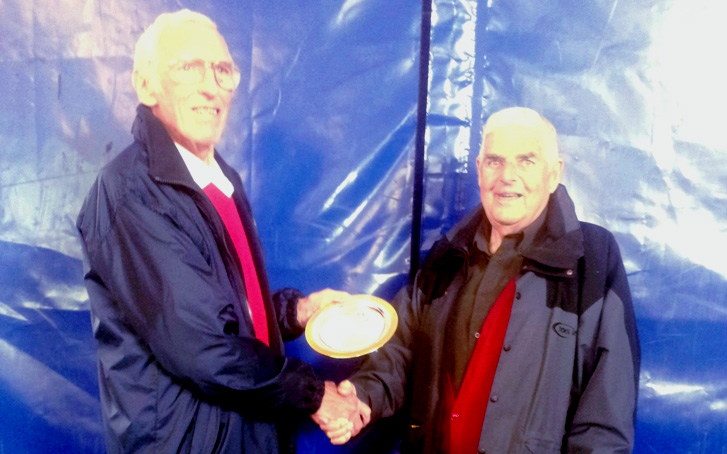 John Neal (Member of KCAA Council & previous KCAA Officials Secretary) presents a KCAA Long Service award for Officiating
to Derek Seamon at the KCAA Championship weekend 16-06-14
---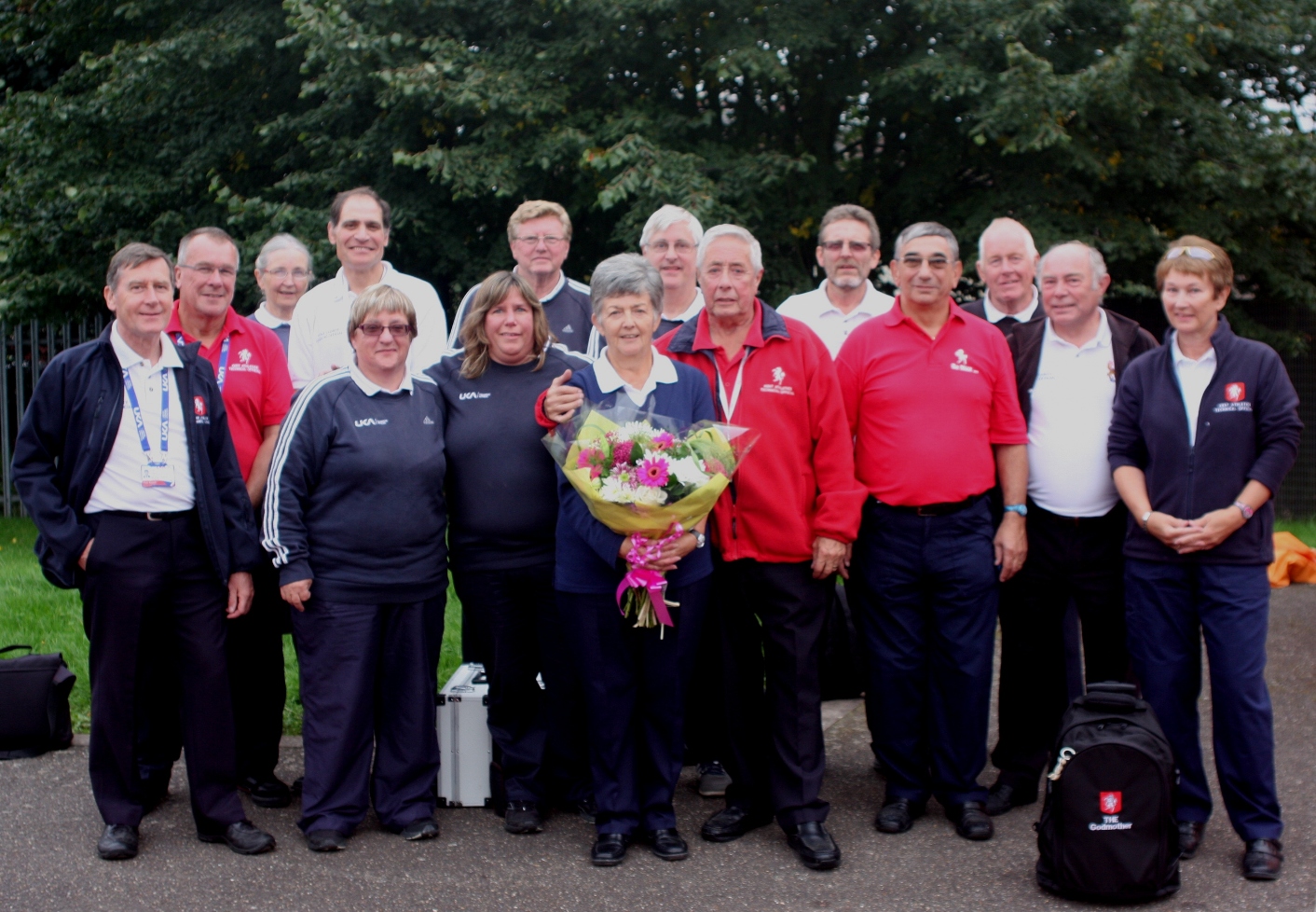 Ray and Sue Gladman's last time officiating and receiving Kent's thanks and good luck for the future. 22 September 2013.